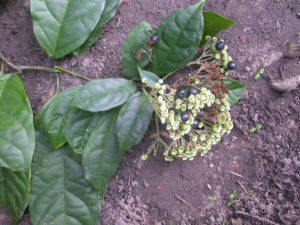 Have you ever heard about Marugbo Leaves; Clerodendrum volubile? This is a vegetable that you should have in your foods. Marugbo leaf is also called Eweta by the Ikales and Ilajes of Ondo state; Obenetete in Urhobo; and Belentientien in Itshekiri.
Marugbo is a climbing shrub found commonly in the south of Nigeria. It is also found in places like Dakar, Fernando Po.
It is used as a spice in food and as the main ingredient of some food recipes. Banga, Pepper soup, Ukodo, Marugbo soup or Gbanunu soup, and some black soups by different tribes in Nigeria are some of the popular foods with Marugbo in it. You might find out that Marugbo/Belentientien has been erroneously named Atama leaves (Bush apple leave; Heinsia crinita) in some online recipes so take note.
This leafy vegetable is mostly valued for its medicinal properties.
Nigeria is a power house of medicinal plants. Many of these plants have been explored traditionally and some scientifically. One plant that both traditionalists and Scientists are agreeing on, about its medicinal potency, is this Marugbo leaves.
In traditional medicine, it is used to treat gout, arthritis, rheumatism, oedema, to mention a few. Interestingly, scientists have also looked into the leafy vegetable and they are confirming what has been traditionally known and even much more.
Marugbo, Obenetete, Eweta, Belentientien contains an appreciable amount of essential amino acids and minerals. Minerals such as manganese, magnesium, potassium, selenium, zinc could be found in it; some higher than others.
Also, the leaves have high flavonoid contents and together with the micronutrients, they may be responsible for the high antioxidant activity (which reduces oxidative stress – very important in disease prevention and management).
Research works spanning the last ten years are showing the potential of this plant in addressing many health issues including diabetes and hypertension. Erukainure and others even found out that the active compounds in the leaves can retard or prevent the spread of some breast cancers. He used breast cancer cell lines to carry out this study.
Oboh et al 2017 is also confirming the traditional knowledge that it has potentials to improve memory and cognitive function and have studied its use in management of some neurodegenerative diseases (like Alzheimer's disease and Parkinson's disease).
This vegetable is certainly a power house. If it can do many of these things (which are evidence-based), I am going to be including it in my shopping list. In case you want to check it out, ask women who sell Banga soup spices in local markets. Ask for Obenetete or Belentientien. In the meantime, more research is needed on this vegetable and I am keeping my fingers crossed and ears opened.
Notes:
Erukainure OL, Ebuehi OA, Choudhary IM, Adhikari A, Hafizur RM, Perveen S, et al. Iridoid glycoside from the leaves of clerodendrum volubile beauv. shows potent antioxidant activity against oxidative stress in rat brain and hepatic tissues. J Dietary Suppl. 2014;11:19–29.
Erukainure OL,Oke OV,Adeboyejo F,Kayode FO,Adeyoju O.Nutritional evaluations of Clerodendrum volubile, a tropical non-conventional vegetable as sole dietary protein source in rats. Int J Biol Med Res. 2011;2(1):374–377.
Erukainure OL, Zaruwa MZ, Choudhary IM, Naqvi A, Ashraf N, Hafizur RM, et al. Dietary fatty acids from leaves of clerodendrum volubile induce cell cycle arrest, downregulate matrix metalloproteinase-9 expression, and modulate redox status in human breast cancer. Nutr Cancer 2016;65(2):296–304.
Oboh G, Ogunruku OO, Oyeleye SI, et al. Phenolic extracts from Clerodendrum volubileleaves inhibit cholinergic and monoaminergic enzymes relevant to the management of some neurodegenerative diseases. J Diet Suppl. 2017; 14: 358–71.
Adefegha SA, Oboh G. Antioxidant and inhibitory properties of Clerodendrum volubile leaf extracts on key enzymes relevant to non-insulin dependent diabetes mellitus and hypertension. J. Taibah University for Sci. 2016;10(4):521–523.