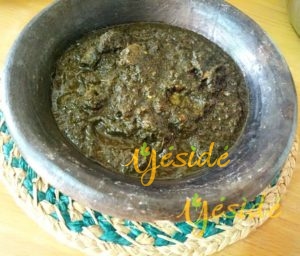 This is my interpretation of the Gbanunu Soup. Gbanunu means 'colon cleanser'. Gbanunu soup is a traditional Soup from Ondo State. This soup is also called Marugbo Soup and it is similar to the Black soup (Omoebe soup). The star ingredient here is the Marugbo leaves – Clerodendrum Volubile(also called Obnetette; Beletientien).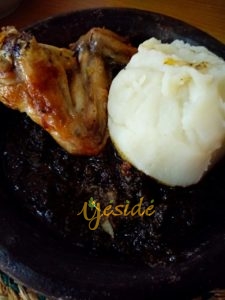 Marugbo leaves contain a lot of phytochemicals that are beneficial to the health.  Current researches on this vegetable are looking at its effect on cancer cells and neurodegenerative diseases. So, it appears to be a very powerful vegetable.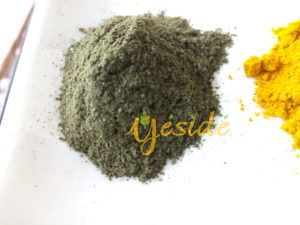 I got Marugbo leaves in different forms: fresh, dried and powder. Sincerely, they do not come by easily and I am grateful to the powerful women who helped me source them. I also had the Marugbo spice (I have no idea what is in it but it reminds me of cloves –Kanafuru), turmeric powder and cottonseed powder all the way from Ondo state.
Tumeric and Black pepper are a powerful combination of spices with a lot of health benefits (backed by research). Also, Bitter leaf and Efinrin (African Basil) leaves also have 'street cred' when it comes to traditional medicine.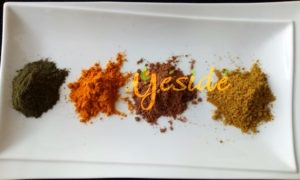 So, if I was to eat any herbal concoction, this soup would be it because I understand the science behind it (at least to an extent).
However, it is important to note that the soup does not have an appealing look at all but it is smooth in the mouth and tastes great. And of course, Efinrin gives it that medicinal feel. Gbanunu soup is a delicacy eaten with Pupuru – A fermented cassava stiff porridge (swallow).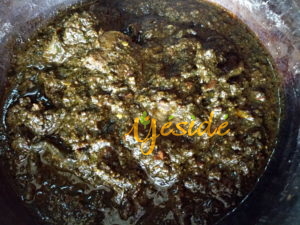 Ingredients:
Dried Marugbo leaves                                   1 cup
Marugbo leaf powder                                    ¾ -1 cup
Fresh Efinrin leaves                                         1 cup
Uziza leaves                                                       ¼ cup
Bitter leaves                                                       ½ cup
Oven-Grilled fish                                              ½ of whole
Marugbo spice                                                  2 teaspoons
Tumeric powder                                               2 teaspoons
Cottonseed powder                                       As thickener (Optional)
Cooked Beef/Chicken/Assorted                     As desired
Dried Shrimps                                                    2 teaspoons
Onion                                                                    I medium
Palm oil                                                               4 Tablespoons
Pepper mix                                                         2 cooking spoons
Locust beans (Iru)                                            ¼ cup
black pepper                                                      Optional
Salt to taste
Method of Preparation:
In a blender, add the blended pepper mix (pimento pepper, scotch bonnet and tomatoes) with onions and locust beans
Put a pot on fire and add the palm oil and pour the pepper blend into it, allowing it to stew/fry a little.
Add salt and other seasonings. You can add some chicken or beef stock if desired and allow to boil.
Next action is to add your fish, meats/chicken or assorted, black pepper and continue to cook for about 5 minutes.
Blend all the vegetables (dried marugbo leaves, bitter leaves, efinrin) together in a blender till smooth, adding just some water to get it to move in the equipment.
Poor the blended veggies into the pot. Allow to cook.
Add cottonseed powder to thicken if it's more fluid that you desire.
Finally, add dried shrimps and check for salt.
Note: Pimento Pepper is Tatase, Scotch Bonnet is Rodo.
Also, the ingredients used in making this soup varies based on preference. The Marugbo leaves is the most important ingredient.
In a nutshell, Gbanunu soup or Marugbo soup is a traditional soup worth trying.
As always, do not forget to eat better and live better.