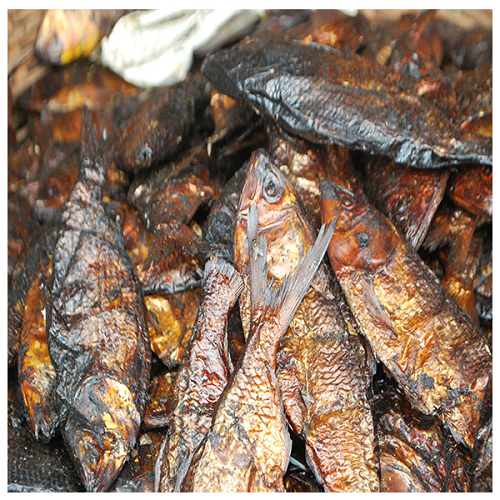 A lot of the fish we eat in West Africa are imported. Nigeria spends as much as $170 million on fish importation. We import frozen mackerel, dried stockfish, canned sardines to mention a few.
However, we do have a lot of 'native' fish in our waters. www.fishbase.org lists about 774 species of fish of which many are native and about 21 of these species are endemic, meaning Nigeria is the only place they are found naturally. Examples of endemic fishes are Delta killifish, Ikorikori, Kurungu (a morchokid catfish).
Among the native fish, one of the popular ones consumed is the Bonga fish.
Bonga fish, Ethmalosa fimbriata, also called Bonga or Bonga shad is shad that is found along the coasts and in the brackish water of rivers, coastal waters, lagoons, and estuaries of West Africa. Bonga is a freshwater fish and it feeds on planktons. They breed throughout the year.
You will find the largest Bonga fisheries in Senegal, Sierra Leone, Ivory Coast, Nigeria, and Cameroon.
A 1972 research article on Nigeria divides Bonga into different size categories. The small ones (less than 70mm) are called Yoyo (Eja yoyo). Medium-sized ones (70-169mm) are Efolo while those above 170mm are called Agbodo. In Sierra Leone, the categorization is different. They are Awefu (150mm), Bonga (280mm), and Bonji (330-390mm).  The Sierra Leone Awefu and Bonga are equivalent to Nigeria's Efolo and Bonga. The maximum length is 450mm. They are generally small silvery fish.
Apart from the size, Yoyo prefer brackish water, Efolo and Agbodo can tolerate both brackish and freshwater but the Agbodo prefers brackish conditions (which has more salinity than fresh water).
Bonga is either consumed fresh, smoked, cooked, salted, dried, or fermented however, it is mostly marketed in its preserved form. E.g. smoking in Nigeria, fermenting, and sun-drying in Senegal and the Gambia.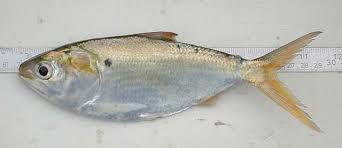 While there are different preservation techniques, the one most frequently used and preferred by Bonga fishmongers is smoking. However, some may use Valium and paracetamol tablets to keep them alive and strong for 1-2 weeks; Valium to prevent them from eating each other and paracetamol to make them stronger (according to one study).
Nutritional value of Bonga
One study showed that Bonga fish flour (dried and milled) has good protein content at 53.8%. Fresh Bonga contains about 15-17% of protein; 5-8% fat, and contains an appreciable amount of minerals such as phosphorus, calcium, magnesium, and iron. There isn't a lot about the nutritional component of Bonga but the Clupeid family of fish they belong to contain about 10-30% of monounsaturated fats.   
Bonga fish has been used to enrich family foods such as soups and stewed beans and can be consumed by the whole family. It is a great food material for enriching or improving the quality of protein and mineral content. Smoked bonga can be milled with its bones to increase calcium content.
The yoyo is often fried with flour and sold as a street food.
It should be noted that a 2019 study of the Epe fishing community showed that microbial (microorganism) contamination is higher in the smoked compared to fresh samples and this was linked to the poor hygiene practices of the fishmongers. Also, the microbial count was higher for bacteria than fungi.
Another study showed the concentration of heavy metals in the gills and organs although gills had more heavy metals.
Price of Bonga fish
The most popular Bonga fish sold in Lagos is the Agbodo. It is sold in pieces of 5 and can cost between 1200-1500 Naira while larger sales of 25 pieces/50 pieces (Owo kan) go for about 5,000/10,000 naira (mile12market.com).
Apart from the nutrition Bonga provides, investing in the fish can also create jobs for many, they are also important as fish meal in feed production which are expensive and can replace the foreign alternative thereby saving us some foreign exchange.
In a Nutshell
Bonga fish is a great addition to meals to enrich children's foods. For parents who are struggling to get your children to consume enough protein, you can reheat smoked Bonga fish and then grind it up to a powder before using it to enrich.
Note, studies show that smoked Bonga fish can be highly contaminated with microorganisms and it might be necessary to reheat before using to destroy or inactivate many of the microbes. Also, remove the head along with gills to reduce microbial contamination as well as reducing consumption of heavy metals.
Eat better live better.
Notes
Adjou, Euloge. (2013). Evaluation of the microbiological and nutritional quality of two types of fish flours from Ethmalosa fimbriata for their use as a dietary supplement.. International Journal of Bioscience. 3. 1-7.
Façade S.O and Olaniyan C.I.O (1972). The biology of the West African Shad Ethmalosa fimbriata (Bowdich) in the Lagos Lagoon, Nigeria. J. Fish Biol. Volume 4, issue 4.
Adetimehin Esther T, Hammed Taiwo B, Adejumo Mumuni (2019). Microbial Load in Bonga Shad Fish (Ethmalosa fimbriata), Preservation Methods and Hygiene Practices among Fishmongers in Epe Community, Nigeria. Agri Res& Tech: Open Access J. 2019; 20(1): 556112. DOI: 10.19080/ARTOAJ.2019.20.556112.
Abolagba, O.J. and Uwagbai, E.C (2011). A Comparative Analysis of the Microbial Load of Smoke-Dried Fishes (Ethmalosa Fimbriata and Pseudotolithus Elongatus) Sold in Oba and Koko Markets in Edo and Delta States, Nigeria at Different Seasons. Australian Journal of Basic and Applied Sciences, 5(5): 544-550, 2011 ISSN 1991-8178.