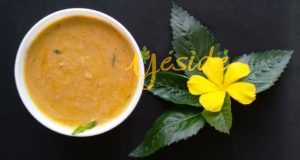 I ate Egusi Ijebu for the first time in Ibadan at my Aunty's house about 12 years ago. It was interestingly a common dish in her household. She would toast the Egusi Melon till it starts to pop and then blend using her old but super-efficient dry mill. The result was always fantastic.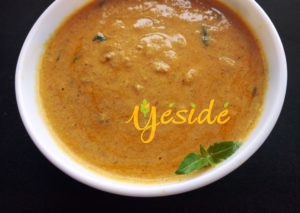 Compared to the lumpy Egusi, Egusi Ijebu was characteristically smoother and my Aunty took pride in how she made hers. She also made it without adding vegetables. Egusi comes with its own package of nutrients.
Egusi Ijebu is a delicacy of the Ijebu people. I also noted that you would use less quantity of Egusi when making Egusi Ijebu compared to the Lumpy Egusi. (Culturally, Ijebu people are stereotyped as being thrifty).
Every time I tried to replicate the recipe, I could not get my dry mill to give me a very smooth oily Egusi paste. So, I learnt to improvise. This is my Modified Egusi Ijebu recipe.
Ingredients:
Egusi (blended)                                               2 cups
Stock fish (processed)                                    ½ cup (optional)
Roasted Fish                                                    ¼ cup (optional)
Water                                                                 1 cup (for blending. You might need more)
Shrimps (dried and blended)                       2 teaspoons
Locust beans                                                    1 tablespoon
Onions                                                              1 medium
Dried pepper (blended)                                2 teaspoons (as desired)
Black pepper                                                   1/2 teaspoon (optional)
Salt                                                                    to taste
Palm oil                                                           1 tablespoon
Vegetable (washed and chopped)              1 cup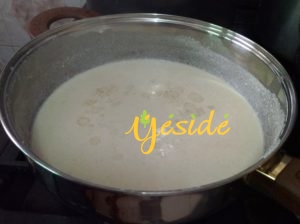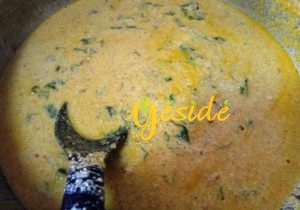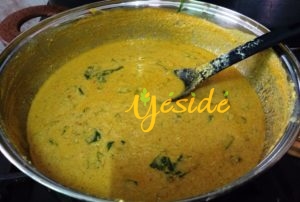 Directions:
Toast the blended Egusi (I had it blended from the market. In the original recipe, you buy the Egusi whole and toast before blending).
Put the toasted Egusi blend into a blender, add 1 cup of water, and onions. Blend till smooth (if too thick to blend smooth add some more water).
Do a rough chop of your Locust beans to make them smaller.
In a pot, add the blended Egusi mix along with your stock fish, dry pepper, black pepper, locust beans, salt to taste and allow to cook for about 20 minutes. If the consistency is too thick, add enough water to form your desired thick consistency. However, note that it is not a watery soup.
Add roasted fish, dried shrimps and palm oil. The palm oil was added to improve the Vitamin A content and give it the characteristic colour (Egusi has all the oil that you need). You can also add more protein if you desire. However, note that Egusi is one- third protein, half oil (containing both unsaturated and saturated oil).
Lastly, I added waterleaf to it. (This is different from the traditional recipe but I prefer to incorporate vegetables into most of my meals. You can also use any vegetable of your choice).
Allow time for simmering. Serve with your favourite stiff porridge (swallow).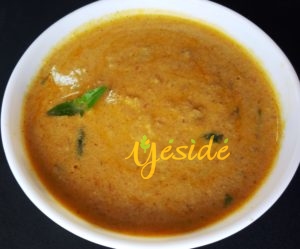 I hid all the goodies (fish, vegetables, stock fish) under the soup because I wanted to showcase the smoothness of the Egusi Ijebu in the photo. It tastes really good. You should try it.
Lastly, Don't forget to eat better and live better.