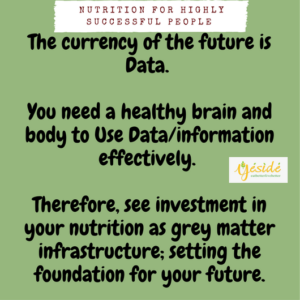 The year is coming to an end gradually. Successful people are already planning retreats or setting aside days for evaluating the year and planning for the coming year. 'Planning to plan' is a must do so that you can get more out of your evaluation and plans for the New Year.
These are 3 things that you should include in your plans for 2018 and beyond:
Invest in your Nutrition for health and productivity
"We must change how we look at the problem of malnutrition. The greatest contribution to economic growth is not physical infrastructure but brain power." These are the recent words of Akinwunmi Adesina, President of the African Development Bank. He refers to this as 'grey matter infrastructure.'
Know this: malnutrition also cuts across the socioeconomic spectrum. Under-nutrition, over-nutrition, micronutrient deficiencies coupled with nutrition – related chronic diseases can be found in those living in Ikoyi as well as in Mushin. It can also be found in Aso rock as well as Ibarapa local government. You might be a CEO, teacher, security guard, Student, child, -everyone can be susceptible to poor nutrition.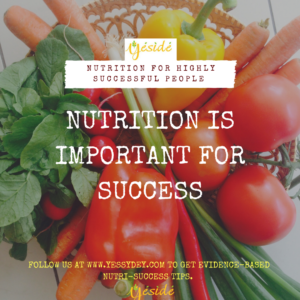 To get the best Nutrition, you have to be deliberate. This is very important in today's world where there is a lot of junk being called food out there. There are also foods that are great that can enhance your productivity. You need to prioritize your nutrition. Focus on those foods, food habits and other healthy eating habits that will eventually improve your productivity and your well-being.
     2. Invest in the Nutrition and Well-being of your Employees 
As an 'Oga at the top' or in any position you are, you cannot operate in isolation. You need to delegate and also get trusted people who can deliver on tasks for you and your company. If you invest in the nutrition and well-being of your people, you would be surprised at their performance. In the process, you might gain loyalty and be able to retain the workforce that you have painstakingly pruned to be effective for you.
      3. Invest in the nutrition of the less privileged ones
"Givers never lack," is a popular saying. Ask Bill gates, read about Mary Kay, Look at Dangote about giving and you would see that it brings more rewards than you have invested.
The late Nigerian Professor of Economics, Sam Aluko once said that "The poor cannot sleep because they are hungry and the rich cannot sleep because the poor are awake and hungry."
Another late professor of Nutrition, Isaac Akinyele made reference to this quote in a presentation saying that when we feed the poor, they can sleep, andthen the rich can also sleep.
The term 'feed' in this context does not mean just literal giving of food. The issues of nutrition are deep-rooted in food insecurity, poverty, poor education, and poor health. Stunted children of this generation would create stunted economies tomorrow. These will be your staff, your service providers, your politicians, your agberos, your children's teachers. Don't you want to have a say in how they will impact your future and that of your future generation?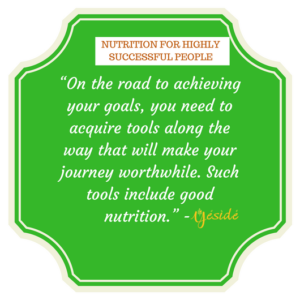 In conclusion, as you prepare, strategize for the New Year and position yourself to benefit from the businesses of futures, ask yourself these questions:
How can I invest in my nutrition in 2018?
What will I be willing to do to enhance my brain health for maximum productivity in 2018?
Am I willing  to improve the well-being of my staff/employee for a productive 2018? Futhermore, what can I do?
In addition, how do I help the millions of children who are malnourished in Nigeria?
Finally, how am I going to improve my brain health and overall wellbeing to enhance my ability to be the best that I can be?
I wish you luck as you do this. If you have any questions, do not hesitate to drop a comment on my blog or even send me an email at yessydey@gmail.com.
Most of all, Don't forget to eat better, Live better.
You might be interested in reading this:
https://www.afdb.org/fileadmin/uploads/afdb/Documents/Generic-Documents/Nutrition_Ten_things_you_should_know.pdf