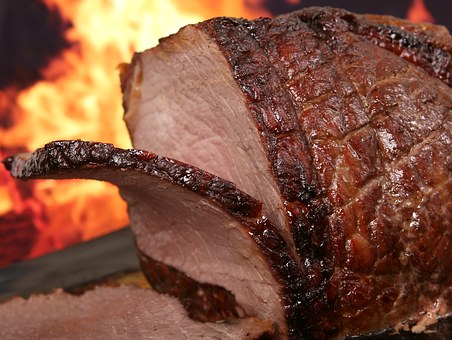 Over time, there have been recommendations to reduce intake of red meat and go for white meat.
Red meats are meats of animals such as cattle (beef), lamb (lamb, mutton), pig (pork), deer (venison), goat (cabrito, chevon) and horse. They differ from white meat (poultry – Duck, chicken, turkey, quail, and pigeon).
Red meat contains heme iron which is a higher quality of iron because it can readily be absorbed by the body unlike iron from plant food (non-heme iron). Red meat also contains all the essential amino acids so the protein quality is great. It also has Vitamin B12 (that cannot be found in plants), Selenium, Vitamin B6, Vitamin B3, and Zinc.
So, if Red meat is so nutritious, why then should we be asked to reduce intake of red meat? This is because red meat comes packed with saturated fats (which have been linked to heart diseases and death although research in this area is still unraveling) and depending on how it is processed (cured meats, smoked meats, meats cooked at high temperatures), it is linked to cancer. However it is important to note that consumption of red meat has not been established as a cause of cancer.
It is important to also note that many of the studies carried out on red meat in the US are done on the grain-fed, factory-reared animals which are the conventional red meats found in the US. These animals are also packed full with hormones and antibiotics. Europeans, on the other hand, eat grass-fed meat and the research findings are quite different from what you see in the US.
In Nigeria, many of our meats have been from grass-fed, range-free animals and this is a great plus because they are healthier than grain-fed, factory-reared animals. They are leaner and have less saturated fats. I hope that the status quo does not change in favour of high yield and less quality meats in the nearest future.
Processed meat such has bacon, ham, and sausages were in the news recently when the World Health Organization (WHO) established a strong link between them and cancer. Processed meats come with baggage like high sodium, saturated fats, nitrites and nitrates. It was recommended (WHO) that if we must eat them, we should not eat more than 70g of red meat/processed meat per day. One pork sausage is about 50g, 1 slice of Ham is about 25g, 2 thin slices of beef is about 60g. In Nigeria, we cut our meats differently.
A study on food portion sizes of Nigerians by a Professor of Nutrition at the University of Ibadan showed that the average portion size of meat is about 77.3g while a single serving is about 26.6g (N20 meat or now N50). 77.3g of meat contains about 24.19g of protein, zero carbohydrate, 8.76g of Fat and Iron 2.74g. In Nigeria, the main food on our plate is usually carbohydrates – rice, corn, wheat, sorghum, yam and the meat is like an accompaniment while the opposite is true for the western world (meat as main meal and carbohydrate as the side).
How can you make red meat better for you?
Buy lean meat (cuts of meat with no fat on it)
Reduce cooking meat at high temperatures (do more of stewing instead of frying)
Reduce eating smoked meat and if your meat is charred ('burnt', caramelized), cut of the charred part before eating.
If you must grill at high temperature, flip the meat often
Reduce amount of meat you consume that has direct access to naked/open fire.
Reduce consumption of processed meats like bacon, ham etc. If your local abattoir sells fresh minced meat and sausages without additions of preservatives, pick those options.
Red meat will be of great benefit to children and women of reproductive age (15-49years) in Nigeria. This is because iron deficiency anaemia is still a big problem. Our red meat portion sizes are smaller compared to the western world and red meat is also expensive for a lot of Nigerians. This being said, if you have a health problem and your doctor has recommended that you stay of red meat, please consult your doctor before you make any dietary change.
What I have been preaching is moderation and variety. Eat your chicken, turkey, fish, snail, periwinkles, shrimps, rhinoceros beetle larva (don't choke), beans and lentils, mushrooms. If you have had a piece of these in one week or two, by the time you get back to red meat; you would be in the moderation zone.
Note: Processed meat can also be white meat, offals (organs of meat).