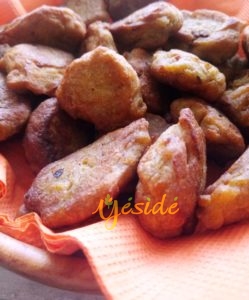 I have here a Plantain Mosa/Plantain Fritters recipe using unripe plantain flour as a replacement for white flour in the recipe. In most Mosa recipes, refined wheat flour (white flour, all purpose flour, self rising flour, plain) is often used.
On a daily basis, I try as much as possible to eat a variety of foods and reduce my family's consumption of very refined carbohydrates like white rice and white flour.
To this effect, I make small changes like replacing one product that is less healthy for a better one. I also just look for was to improve the nutrient value of my daily meals.
For this recipe, I got some unripe plantain flour produced by FIIRO (www.fiiro.gov.ng).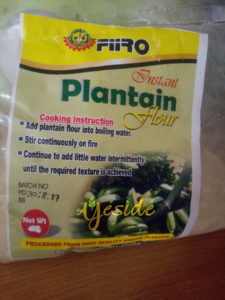 Plantain fritters or Plantain Mosa as it is often called is great treat for the family; infants, toddlers, and adults. You can also use it to entertain guests if you are not planning to do some heavyweight cooking.
Plantain Mosa/Plantain Fritters Recipe using Unripe Plantain Flour
Ingredients:
Overripe plantain                             2 Fingers
Unripe Plantain flour                      ¾ Cup
Water                                                   ½ Cup
Egg                                                         1 large
Shrimps (dried)                                 1 tsp
Dried pepper                                     1tsp
Black pepper                                      1tsp
Salt                                                         to taste
Coconut oil (or vegetable oil)
Directions:
Mash the very ripe plantains
Add all the other ingredients: plantain flour, beaten egg, Black pepper, dried pepper, water, dried shrimps to the mashed plantain and whisk until they are well combined. Add salt to taste.
Heat oil on a burner and fry in small, bite-size balls until light golden brown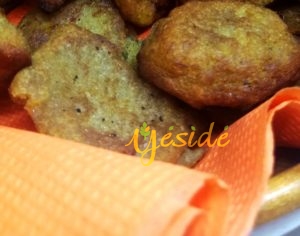 It is almost the same recipe as the Mosa only with unripe plantain flour instead of white flour. You can improve the nutrient value of your recipe by adding some vegetables to it. Make it to your own taste.
The essence of this recipe is to inspire you to make little improvements in your meals for the sake of your nutrition.
If you try this recipe and you like it, please do not forget to share.