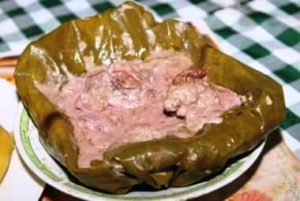 Groundnut stew, locally known as ebinyebwa, is a decades old delicacy in Uganda. From the east to the west, north to the south, Ugandans do love themselves some groundnut stew. It is prepared and served everywhere; in households, at ceremonies, from the ghetto kafunda to hotels. Groundnut stew is embedded in our culture, food and livelihood. It's perhaps one food that is commonly enjoyed among all the different communities in Uganda. It is prepared from groundnuts also known as peanuts.
You may be familiar with eating your groundnuts, roasted, boiled or fried. Well let me introduce you to groundnut stew, a Ugandan delicacy. Groundnut stew is quite delicious and gladly also quite easy to prepare.
Method :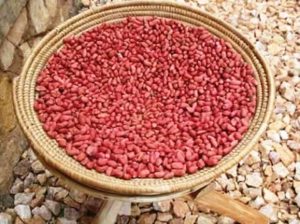 Step 1
One can purchase already crushed groundnuts but one can also buy the raw seeds, crush or pound them until they are free of any solid particles.
Step 2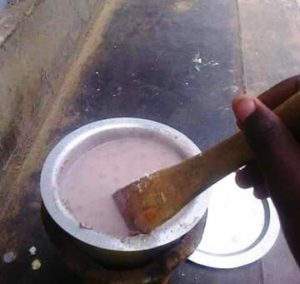 Place your pounded groundnuts in a pan. Add water to it and stir, make sure there are no stout particles.
Step 3
Boil the mixture and keep on stirring so it doesn't burn. When it's almost ready (you will know this when it starts to thicken), add ingredients to it. These can include, onions, dried fish, egg plants, mushrooms, roasted meat, whatever your preference will make the sauce even more appealing. I would advise not to add tomatoes as they will prevent the stew from thickening.
When ready groundnut stew is thick. It can be served with a variety of dishes including potatoes, matooke (green bananas), yams, cassava.
Groundnuts are one of the most important legumes, their quality nutritional value is well documented in scientific literature. Groundnuts contain proteins, unsaturated fats and appreciable amounts of dietary fibre, vitamins and minerals. All these nutrients combined contribute so much to a healthy body and mind. They are a proven memory booster, they help fight depression, and they help with regulation of blood sugar.
Groundnut stew is more than just a delicacy. It is culture, it is health, and it is also so delicious; finger licking delicious.
See Nigerian Groundnut Soup for comparison.
Pressilla Nanyange was born, raised and currently resides in Uganda. She is a digital nomad who aspires to travel the world.