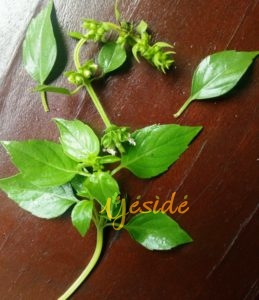 One of the popular fresh herbs that you can get at the local market in Nigeria is the 'Curry leaves'…well, while it is called 'Curry leaves', it is really LEMON BASIL.  Lemon Basil is 'Curry leaves' in Nigeria.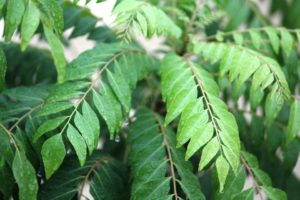 On my many sojourns to the local markets in Lagos, I usually look through the market if there is anything new or anything that stirs my interest; that is apart from my major aim for being at the market. Many times I would see the 'Curry leaves' and go home to google about it but my search always led to the real curry leaf which is a shiny green leaf that is also called Sweet Neem leaf (Murraya koenigii) of the Rutaceae family. The real curry leaves is from the curry tree that also produces small white flowers and small shiny black berries. The curry leaves is also used for culinary purposes and is native to India and Sri lanka.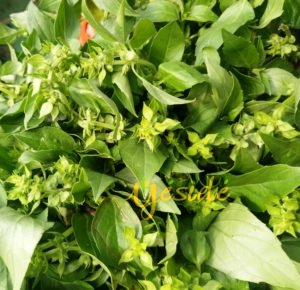 I discovered that the Lemon Basil is what we call the 'curry leaf'. Lemon basil (Ocimum africanum) is also called Thai lemon basil, Hoary basil or lao basil. It has that sweet fragrant lemon or citrus scent that we associate with 'curry leaves'. Like the curry leaves, Lemon basil also produces white flowers. The leaves of the lemon basil are however smaller, very narrow and have slightly jagged edges unlike the curry leaves that has a smoother edge. Lemon basil is from the larger Basil genus where you have the African Basil (Efinrin nla).
Lemon basil can be used for soups, stews, stir fry, grills and so on.
To get the best of lemon basil, make sure you purchase from a bunch that has not flowered yet or the flowers have been pinched out because once they start bringing out flowers the lemony aromatic flavour reduces (according to a couple of gardening websites).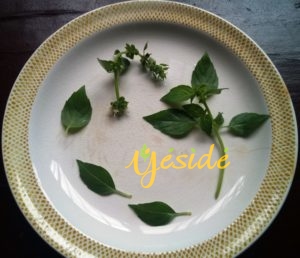 Herbs are very important in nutrition. They add necessary flavours, polyphenols and other compounds that have been known to be medicinal to our foods and drinks.
Lemon basil and other herbs like Thyme, Oregano, Rosemary, Majoram, and African Basil that we use in cooking in Nigeria, make the foods we eat palatable, delicious and memorable.
Other foods that have been 'erroneously'  named in Nigeria that have featured on www.yessydey.com are Crayfish and Potash.