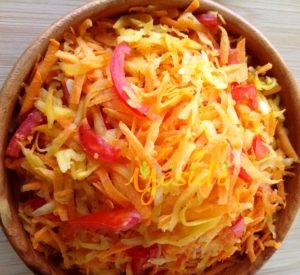 I made a Carrot, Pumpkin and Tomato Salad today because I was thinking about Vitamin A. This is one side dish that can supply you with a lot of vitamin A. Vitamin A is a very important micronutrient for immunity and eye health. Unfortunately, Vitamin A Deficiency (VAD) is one of the major nutritional challenges that we have in Nigeria. When there is a deficiency of this micronutrient, there is an increase in the risk of illnesses and deaths from common childhood infections.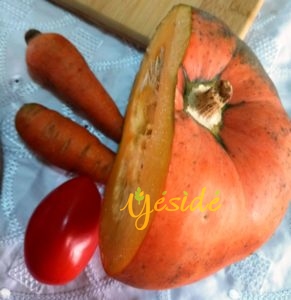 Carrot, Pumpkin and tomatoes are three fruits and veggies that are rich in beta-carotene (which will be converted to Vitamin A in the body). The whole family can enjoy this salad as a side. I just grated the carrots. Although steaming carrots can make the beta-carotene more available for the body to use, I just used it fresh tut you can do it anyway you want. For the pumpkin, I shredded and sautéed it in a little butter, chopped garlic and black pepper. I sliced the tomatoes thinly and the I combined all three when the sauteed pumpkin was cool.
It is not a gourmet dish; this just a simple fruits and veggie salad that the whole family can enjoy.
It took a really short time (about 15 minutes) to prepare the salad for my family and you can do it also. If you have infants that cannot eat the shredded veggies, just steam the whole thing and make a puree.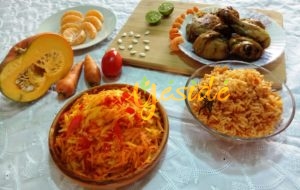 Other sources of Vitamin A available in Nigeria include meat, fish, dairy products, green leafy vegetables, and red palm oil.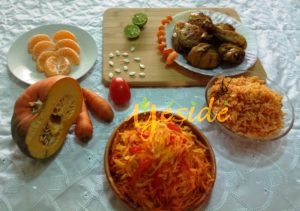 Eating healthy in today's world requires making a deliberate effort to get healthy meals on your table consistently. It requires forming habits and cultures that benefit your nutrition and lifestyle. I have formed the habit of diversifying my meals and you can do the same also.
Note: The South Eastern part of Nigeria has less prevalence of VAD and one of the things attributed to this is that they eat a lot of fresh palm oil. In the South West where palm oil is also consumed, Vitamin A deficiency is still high and this is because of the way palm oil is cooked – heated and bleached till the provitamin A is destroyed. Vitamin A deficiency is greatest in the North of Nigeria.