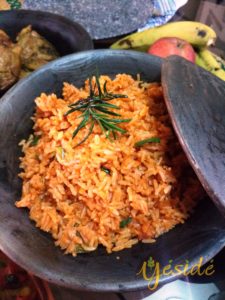 If there was a traditional Lunch for the National Day celebration or an Independence day meal in Nigeria, what meal would that be? 
Just like turkey is associated with Thanksgiving in the US and Canada, we ought to have a national meal to celebrate Independence.
I am thinking that it would have to be a meal that its consumption cuts across every ethnic group in Nigeria. It would also be a meal that is found (produced, processed, sold and eaten everywhere in  Nigeria.
In times past,  Cassava could have been the termed the National food because its consumption also cuts across many geopolitical zones and across tribes in the country. However, with a transition to the 'urban'  way of life in Nigeria, Rice had become the most consumed food crop in Nigeria.
According to a 2011 integrated survey on Agriculture by NBS and World Bank, rice consumption greatly exceeds that of Cassava and it is consumed both in urban and rural areas although rural areas consume more of the local rice than the imported rice. About 6% of our total income is spent on Rice. 
Rice is very important to our Food security for many reasons, some of which I have already highlighted. Rice is also important  because of the amount of our earnings spent on rice importation. Our dependency on rice importation is so high that if there is an international crisis that affects food supply, everyone will 'feel'  it. This is why the government has been making effort to boost rice production all over the country. States like Lagos and Kebbi have also come up with LAKE rice, a locally produced rice.
Nutritionally, brown rice, which is rice that the husk only has been removed, is much better than the white rice we find everywhere. It contains more nutrients than the overly processed white rice. Since rice has come to stay, you can upgrade the type of rice you eat and go for brown rice. Although it is more expensive than white rice (this is funny because brown rice is what you get before all the polishing), it contributes more to your health and we know that staying healthy is much more important and preferred to looking for health.
It is National Day for us in Nigeria and I encourage every Nigerian to rise to the National call and keep the faith. To celebrate my dear country, I have prepared Jollof Rice made from brown rice, veggies, grilled chicken, Dodo (fried Plantain) along with a bottle of the local Palmwine (Emu) to cheer us into this 57th year of independence.
Happy Independence from Yessydey.